During this year of CES, Intel announced a mobile platform Medfield as
shown in the follow diagram
(Medfield platform overview with Penwell SoC shown in blue), or called
the Intel Atom Z2460
.
The Medfield chip includes the single-core Saltwall, 512-kbytes of level-2 cache, the single-core SGX540 2-D/3-D graphics processor licensed from Imagination Technologies Group plc (Kings Langley, England) as well as blocks for high definition (1080p) multi-standard video encode/decode and separate programmable image signal processor. The graphics processor is clocked at 400-MHz.
High power consumption has been a criticism of Intel's SoC designs in the past and to save it Intel has added a raft of power management features.
The Penwell SoC has a dedicated 32-nm process and Intel has made design changes in the creation of Saltwell CPU core to support a lower than usual minimum voltage operation. It also has what it describes as an ultra-low power L2 cache.
The Penwell SoC is designed to support an 8- to 24-megapixel primary camera as well as a secondary 2-megapixel camera. To aid catching the right shot the SoC also supports 10-frame burst-mode photography mode. That captures 10 full 8-megapixel pictures at 15 frames per second. Part of the support for this is in the image signal processing core which is believed to derive from the technology of Silicon Hive, acquired by Intel in February 2011.
The wireless modem is also a separate IC; originally the IFX6260 HSPA+ modem IC, from Infineon Technologies AG. That IC became an Intel part when the company acquired the wireless business unit of Infineon at the beginning of 2011 and has been relabeled by Intel variously the IMC6260 or the XMM 6260.
A third-chip within the Medfield platform is a combination connectivity chip from Texas Instruments that provides Wi-Fi, Bluetooth and FM radio and it appears that GPS support comes from
CSR plc
.
Analysts from Nomura Equity Research predicted that Medfield would be introduced at a price of $17 or $18.
"
Intel Medfield vs NVIDIA Tegra 3 performance preview
" shows some early performance numbers from the Java benchmark
CaffeineMark
from
vr-zone
.
"
Intel's Medfield & Atom Z2460 Arrive for Smartphones: It's Finally Here
" compared SunSpider and BrowserMark performance between Intel Medfield reference platform with others: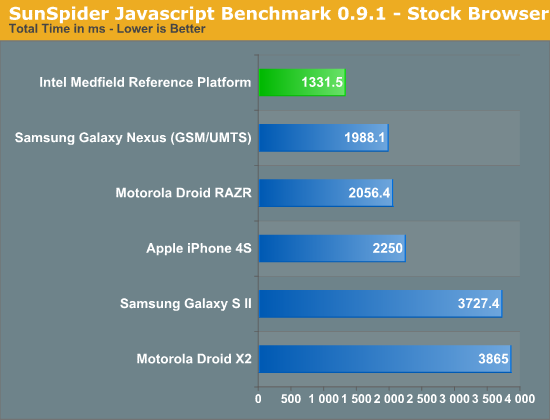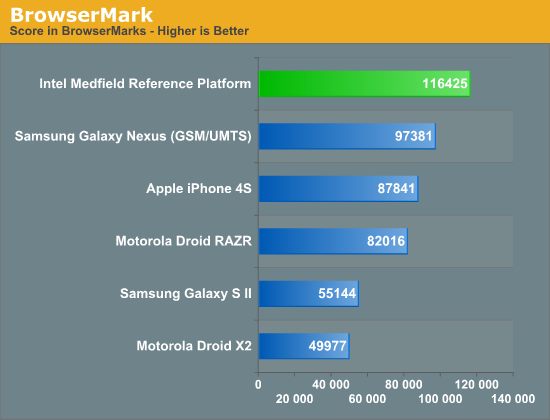 Galaxy Nexus
running Android Ice Cream Sandwich has 1.2GHz TI 4460 OMAP microprocessor inside and The
Motorla Droid Razr
runs on a 1.2 GHz TI OMAP 4430 chipset.