Currently in markets, there are few good HEVC/H.265 data analysis tools for developers, such as
Vega HEVC
,
Elecard HEVC Analyzer
,
Parabola Explorer
,
Zond 265
,
CodecVisa
, and
HevcVisa Cloud
.
Vega HEVC
Similar to Vega H.264 analysis tool which has been very useful to H.264 developers,
Vega HEVC
is a HEVC/H.265 visual file-based media analyzer. It features includes complete parsing and decoding, frame by frame navigation, analytical graphs, H.264 and HEVC encoding comparison, powerful reporting, and error messages at all structural levels.
It features
Comprehensive, easy to navigate visuals with intuitive information display - High level Picture information down to thumbnail structure
Summary information for all levels at a single click - Stream summary, sequence summary, NAL Summary, Picture Summary, and more
Analytical graphs to provide bird eye view of the complete stream: Frame distribution, NAL distribution, Compression Ratio, QP, DPB Occupancy, Ratio of coding unit data, Prediction data, Transform data
HEVC and H.264 encoding comparison - Bit rate, QP data, Buffer occupancy, Motion vectors, and more
Error messages at all levels - NAL, SPS, PPS, APS, CU, TU, PU - to enable accurate examination of standard violation
Overlay of picture with CU, TU and PU partitions
CTB View that displays splitting of CU, PU and TU blocks
Powerful reporting feature - Save reports, Distribute reports
Utilities for continued assurance of compliance and interoperability - Buffer analysis, Trace viewer, YUV viewer
Efficient and high-performance analysis – Multi-core support, Fast Analysis, Partial analysis
Elecard HEVC Analyzer
Elecard HEVC Analyzer is based
HM
9.2. It provides display of information includes frames types and sizes, coded units data, visualization of slice and tile boundaries, partition, motion vectors, types, bit sizes, quantizers etc along with a quick-to-capture summary of encoded data against the reference raw data. It costs
$844.0
0.
The features include
Display of decoded, predicted and unfiltered frame data (YUV and single plane)
Display of SPS, PPS and APS slice headers with offsets and bit size indication
Display of reference frames
Display of Coded Unit data: position, dimension, size, type
Visualization of slice and tile boundaries, partition, motion vectors, types, bit sizes, quantizers
Navigation via chart bar or thumbnails
Navigation in stream, display, I, P, B, IP and key frames mode
Hex viewer
Viewing of reference raw data
Metrics calculation
Visual comparison against reference raw data: subtraction, compare, block PSNR modes
Parabola Explorer
It is a HEVC Bitstream Analyzer and fearures
Multi-faceted analysis and visualisation of video bitstream characteristics from inter-picture relationships down to individual bits and CABAC bins
Video frame display with zoom and pan facility to examine key decode pipeline stages: predicted, reconstructed and final output
Select from a multitude of informative picture overlays
Temporal and spatial bit allocation graphics with more detailed statistics available
Visualise entire codec state including headers, DPB and CABAC context variables at any point during the parsing and decoding processes
Syntax and semantics terminology entirely consistent with HEVC specification text
Multithreaded / multi-process architecture optimized for multi-core processors
Zond 265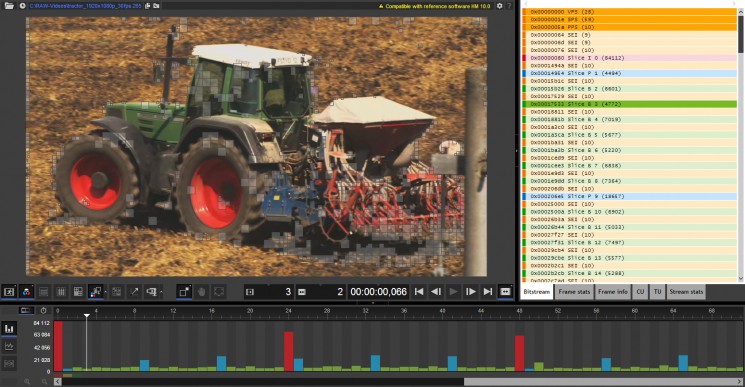 Zond 265 is the tool for the visual in-depth analyzing of HEVC/H.265 video bitstreams. It Features
Convenient frame-by-frame navigation based on the frame bars in decoding or the display order
Frames size histogram and color highlighting of different kinds of frames (I, B, P). Marking of reference frames for the current picture
Easy-to-use visual presentation of data from all levels of a video stream and decoding stages
All headers with content. Headers sizes and offsets within a stream
Highlighting of slice and related headers (SPS, PPS, etc.) that belong to a current frame
Pixels to be predicted, reconstructed, after deblocking and adaptive loop filtration
Coding units (CU): coordinates, dimension, and bit-size. Color highlighting different types of CUs (Inter, Intra)
Prediction units (PU). A spatial prediction mode of intra PU luma and chroma components. Inter PU's motion vectors, reference lists, reference indexes.
Transform units (TU): dimension and offset within CU. Luma and chroma coefficients before de-quantization.
Overlay a frame with a CU, PU, or TU grid and motion vectors
Gathering and visual presentation of bits distribution statistics to be used while encoding CU, PU, and TU data (skip_mb_flag, merge_flag, mvd, cbf_luma, etc.).
Displaying results as a pie chart and table
CodecVisa

It is an analyzer for H.265/HEVC, H.264/AVC/MVC, GOOGLE VP9/VP8, MPEG2 Video and YUV video codecs. It can analyze H.265/HEVC, H.264/AVC/MVC, GOOGLE VP8/VP9, MPEG2 Video on different formats. Features
In depth analysis of H.265/HEVC, H.264/AVC/MVC and GOOGLE VP9/VP8.
I/P/B mb insight analysis, including ref list, mb type, intra/inter prediction info, LP filter strength info, etc.
MB pixel info and display in all decoding stages including Final, Pre LP-filter, Predicted and Residual data and IDCT Coefficient.
Encoding Statistics including encoding rate, average QP, mb bits for each type, etc.
Info Dump on decoded YUV output/MB info/Header info.
MP4/3GP, MPEG2 Transport/Program Stream, FLV, MKV/Webm file formats analysis.
Playback on Display and Decoding order.
HevcVisa Cloud
HevcVisa Cloud is the first cloud based HEVC(H.265) video analyzer. Its is free. Its
main features
includes
Easy navigation through frame thumbnails.
Detailed analysis of Coding Unit, including location in file, total bits and bits for PU and TU, etc.
Detailed analysis of Coding Unit prediction.
In-depth picture statistics, including bits distribution, CU type distribution, average CU size etc.
Overlay display for Coding Unit structure, type, temperature(bits), motion vectors, as well as slice boundary.
Stream and slice headers.
Decoded Pixels in each stage: Coefficients, Residual, Predicted, Reconstructed, and Final values.