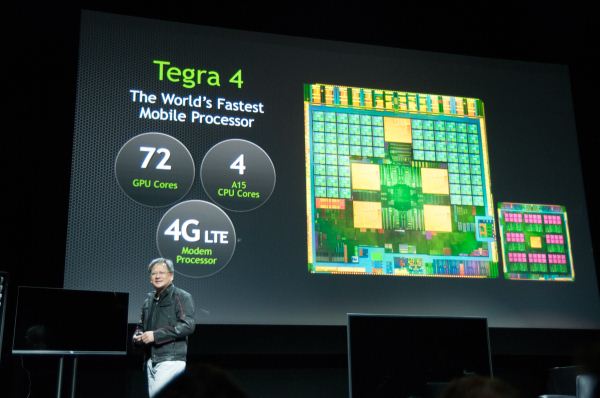 Nvidia unveiled
its Tegra 4 processor Sunday at CES.
Chips
The Tegra 4 is based on ARM's quad-core Cortex-A15 processor and also packs in 72 graphics processing unit (
GeForce
GPU)
cores, six times the GPU horsepower of
Tegra 3
. The four Cortex A15s will run at up to 1.9GHz. LP-DDR3 dual-channel memory interface is supported. 4G LTE modem is optionally built in.
Photography
High-Dynamic Range (HDR) capture is essential for high quality photography. HDR combines a series of photographs taken at different exposure settings to provide a wider dynamic range and is processor intensive. The iPhone 5 takes about 2 seconds to capture an HDR image, said Nvidia CEO Huang, while the Tegra 4 can snap two shots almost simultaneously and combine them.
Video and Battery Life
The Tegra 4 will also enable 4K ultra high-definition video support. Tegra 4 includes a second-generation battery saver core for low power during standard use, and PRISM 2 Display technology to reduce backlight power while delivering superior visuals.
Tegra 4 consumes up to 45 percent less power than its predecessor, Tegra 3, in common use cases. And it enables up to 14 hours of HD video playback on phones.